Compare Security Guard prices
Security guards perform an important function in Johannesburg, keeping you, your family and your property safe. How much should you be paying for security guards in 2019? How can you get a better price for security guards?
What is the lowest that you can pay for a security guard service in Johannesburg?
The absolute lowest that you can pay for a legal and compliant security company to provide a 24 hour, 7 days a week security service in Johannesburg is:
R26 174 per month per security guard
The full calculations are given below. Even at hte absolute minimum, it is prudent to pay more because it is a benefit to use a security company that is not going to go bankrupt after a few months.
How can you reduce the monthly cost of a security guard?

A security guard performs a number of duties. By automating certain duties, you can reduce the number of security guards that you require, or reduce the grade of security guard that you need. With automation, you can also reduce other costs while increasing your safety.
| | |
| --- | --- |
| Security Guard Duty/ function | alternatives |
| Detect the presence of an intruder | PIR sensors, CCTV motion detection, IR Beams, dogs, electric fence alarms, tripwires, Sublethal Remote Guns |
| Patrols | Sublethal Remote Guns, dogs in tenants' properties |
| Fight off an intruder | Sublethal Remote Guns, pepper spray dispensers, fogging |
| Access control | intercom linked to cellphone, intercom, CCTV camera with licence plate recognition, intercoms with guest entry/exit codes |
| Alert armed response | panic buttons, cellphone apps, |
| Directing traffic | signboards with directions |
| Investigate disturbances | armed response, Sublethal Remote Guns |
Example 1 of cost savings by automating security guard duties
A liquor store employs 2 security guards in Johannesburg. In the event of a minor incident like shoplifting the security guards apprehend the suspect. In the event of a serious incident like an armed robbery, the security guards do not have firearms and can choose to risk their lives or surrender.
Alternative :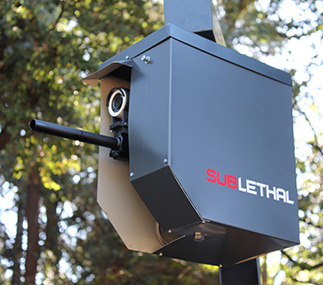 Have only 1 security guard to deal with minor incidents. For serious incidents have a Sublethal Remote Gun installed overlooking the front door and cashiers. The managers' office door is to be replaced with a 6mm solid steel door and the remote gun is to be controlled by the manager. In the event of an armed robbery, the security guard will likely surrender but the Sublethal Remote Gun will fight off the robbers. It is nearly impossible to win a fight against a robot.
Savings per month are the salary of a security guard. Set up costs are the 6mm steel door on the managers office and 2 the remote guns.
Cost steel door: R6 000
Cost of Sublethal Gun: R23 000
Total setup cost: R29 000
Savings:
R4377 per month
Payback period: 7 months.
Other benefits:
Much higher security as armed robbers can be engaged.
Example 2 of cost savings by automating security guard duties
A remote petrol station has 4 attendants, 1 cashier and one supervisor. The cashier is behind a bullet proof glass but the petrol station is remote and suffers occasional robberies. There is an armed response service but it takes up to 10 minutes for a vehicle to respond because of the distances involved. The owner needs to prevent the business robberies. The most likely threat is from 4 armed men in a vehicle. To stop 4 armed criminals, 4 armed security guards are needed. The cost of 4 armed security guards 24/7 would be at least R150 000 per month, which is un-affordable for many businesses. Depending on the layout, the owner can opt for 4 or more Sublethal Remote Guns, at a once off cost of R80 000 (excluding installation). Some security upgrades may be necessary like solid steel doors to stop forced entry into the cashiers booth.
Security guard minimum wage
From 1 November 2018 the Department of Labour has stipulated a minimum wage for security guards in the Government Gazette for the following areas near Johannesburg: Alberton, Benoni, Boksburg, Brakpan, Germiston, Inanda, Johannesburg CBD, Kempton Park, Krugersdorp, Randburg, Randfontein, Roodepoort, Springs, Vanderbijlpark, Vereeniging, Westonaria and Wynberg.
| | | |
| --- | --- | --- |
| Grade of security officer | Monthly Salary | Description of typical duties |
| Grade A security officer | R5558 | site manager |
| Grade B security officer | R4981 | access control to high risk areas with computer skills, shift commander |
| Grade C security officer | R4377 | access control to high risk areas |
| Grade D security officer | R4377 | access control and patrol officer |
| Grade E security officer | R4377 | access control to medium and low risk areas |
A security officer can work a maximum of 48 hours in a week, which is 4 shifts of 12 hours per week. A 12 hour shift is the security industry standard for security guards, with the shifts usually starting at 6.00 and 18.00 to facilitate transport.
How many security guards do you need for a 24 hour, 7 day a week security guard service?
The industry standard is 12 hour shifts. To have one security guard 24/7 you therefore need 14 shifts per week. One security guard is only allowed to work 4 shifts per week by law (South African Department of Labour). This means that a minimum of 4 security guards are needed.
4 security guards x R4377pm = R17 508 per month excluding overheads
The security overhead costs for a 24/7 security service includes:
management of the security guards

payroll

annual leave

security guard replacements for sick leave

regulatory fees

transportation costs, it is common for transportation to be provided if the client location is far from taxi routes or if the client wants a more reliable services

additional pay for public holidays

training

investigations

public liability insurance

bonuses
There is a lot of work that goes into a 24 hour security service and security companies need to charge at least 30% more than the security guard salaries just to cover their costs.
R17 508 + 30% = R22 760 per month excl VAT
VAT is applicable on security guarding services at 15%
R22 760 + 15% VAT = R26 174 per month
Comparison of Security company quotes in Johannesburg for 2019
To give a comparison of security company quotes we have got quotes from security companies for the same service, in the same area. Note that a difference in price does not necessarily mean that one security company is better or worse, as every security company operates differently and may have many value added services included in their 24 hour guarding service such as investigations, patrols, security guard training,etc.
What are the requirements for a 24 hour security service officer?

A security guard in South Africa must register with PSIRA (Private Security Industry Regulatory Authority). PSIRA requires the following to consider a security guard application:
Pay the application fee

Permanent resident in South Africa

Not have a criminal record

Completed security training

Must possess a clearance certificate for previous military or intelligence service

Must be over 18 years of age on application
Note that if a security guard is registered with PSIRA and commits a crime AFTER registration, then it is possible that PSIRA does not have a record of the crime. It is therefore important that the security company obtains regular police clearance certificates on all its guards.
Security guard training costs

The prices for security guard training varies widely. For 2019 a security guard course costs approximately:

| | |
| --- | --- |
| Grade C,D,E security guard | R1200 |
| Grade B security guard (supervisor) | R1100 |
| Grade A security guard (manager) | R1100 |
| Handgun course | R1300 |
| Shotgun Course | R1300 |
| Basic first aid | R700 |
| Basic fire fighting | R700 |
| Cash in transit course | R1200 |
| Armed reaction officer | R1200 |
This page was last updated on 6 December 2018.