Farm attacks in South Africa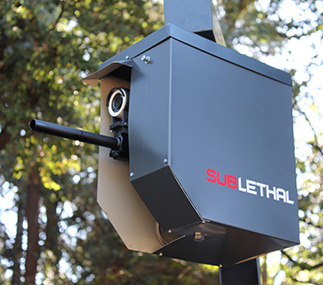 Despite what politicians say, there is ample evidence for farm attacks in South Africa. Sublethal PTY LTD was specifically created to make South Africans safe against violent criminals.
Right: A remote gun by Sublethal, South Africa. Use Sublethal guns to fight off armed criminals from farms without putting your safety at risk. Sublethal remote guns are cost effective and shoot a non-lethal bullet that causes extreme pain to the criminal. Read more about remote guns
2018 Farm attacks in South Africa
Primkop Farm Attack
Elderly couple shot in their home near White River, Mpumalanga. 4 Suspects. November 2018
Porterville Farm attack
Couple injured on their farm during an attack.
Police success! Farm attack suspects arrested
Police arrest 4 suspects involved in a farm attack in Burgersdorp, Eastern Cape. December 2018
Farm attackers convicted
2 men received life sentences for the murder of 77 year old Friedel Filter (2016)
This page was last updated on 5 December 2018.